Environmental, Social and Governance ("ESG") Engagement
Subject to the exception below, the management of the Company's investments is not undertaken with any specific instructions to exclude certain asset types or classes, the Investment Manager embeds ESG into the research of each asset class as part of the investment process. ESG investment is about active engagement, in the belief that the performance of assets held around the world can be improved over the longer term.
 What is ESG, and why do we do it?
Environmental, social and governance (ESG) considerations have been an integral part of the Investment Manager's decision-making process for almost 30 years. The Investment Manager believes that ESG factors are financially material and can meaningfully affect a company's performance. Hence, a company's ability to sustainably generate returns for investors depends on the management of its environmental impact, its consideration of the interests of society and stakeholders, and on the way it is governed. By putting ESG factors at the heart of its investment process, the Investment Manager aims to generate better outcomes for the Company's shareholders. The three factors can be considered as follows:
Environmental factors relate to how a company conducts itself with regard to environmental conservation and sustainability. Types of environmental risks and opportunities include a company's energy consumption, waste disposal, land development and carbon footprint, among others.
Social factors pertain to a company's relationship with its employees and vendors. Risks and opportunities can include (but are not limited to) a company's initiatives on employee health and well-being, and how supplier relationships align with corporate values.
Corporate governance factors can include the corporate decision-making structure, independence of board members, the treatment of minority shareholders, executive compensation and political contributions, among others.
At the investment stage, ESG factors and analysis help to frame where best to invest by considering material risks and opportunities alongside other financial metrics. Due diligence can ascertain whether such risks are being adequately managed, and whether the market has understood and priced them accordingly.
The Investment Manager is an active owner, voting at shareholder meetings in a deliberate manner, working with companies to drive positive change, and engaging with policymakers on ESG and stewardship matters. Furthermore, the Investment Manager has actively chosen not to invest in tobacco companies and will not invest in companies directly exposed to controversial weapons.
 Can we measure it?
There are elements of ESG that can be quantified, for example the diversity of a board, the carbon footprint of a company, and the level of employee turnover. While diversity can be monitored, measuring inclusion is more of a challenge. Although it is possible to measure the level of staff turnover, it is more challenging to quantify corporate culture. Relying on calculable metrics alone would potentially lead to misleading insights. As active managers, quantitative and qualitative assessments are blended to better understand the ESG performance of a company.
The Investment Manager's analysts consider such factors in a systematic and globally-applied approach to assess and compare companies consistently on their ESG credentials, both regionally and against their peer group. Some of the key questions asked of companies include:
How material are ESG issues for this company, and how are they being addressed?
What is the quality of this company's governance, ownership structure and management?
Are incentives and key performance indicators aligned with the company's strategy and the interests of shareholders?
The questions asked differ from company to company; the type of questions poised to a bank would be quite different from those of a semiconductor manufacturing firm. Having considered the regional universe and peer group in which the company operates, an ESG score is assigned ranging from 1 to 5. This proprietary ESG score is applied to every stock within the Investment Manager's investment universe.
 The ESG Scoring System
Having considered the regional universe and peer group in which a company operates, the Investment Manager allocates it an ESG score between one and five. This is applied across every stock covered globally. Examples of each category and a small sample of the criteria used are detailed below:

 Climate Change
Climate change is one of the most significant challenges of the 21st century and has big implications for investors. The energy transition is underway in many parts of the world, and policy changes, falling costs of renewable energy, and a change in public perception are happening at a rapid pace. Assessing the risks and opportunities of climate change is a core part of the investment process. In particular, the Investment Manager considers:
Transition risks and opportunities
Governments could take robust climate change mitigation actions to reduce emissions and transition to a low-carbon economy. This is reflected in targets, policies and regulation and can have a considerable impact on high-emitting companies.
Physical risks and opportunities
Insufficient climate change mitigation action will lead to more severe and frequent physical damage. This results in financial implications, including damage to crops and infrastructure, and the need for physical adaptation such as flood defences.
The Investment Manager has aligned its approach with that advocated by the investor agenda of the Principles for Responsible Investment (PRI) – a United Nations-supported initiative to promote responsible investment as a way of enhancing returns and better managing risk.
PRI provides an intellectual framework to steer the massive transition of financial capital towards low-carbon opportunities. It also encourages fund managers to demonstrate climate action across four areas: investments; corporate engagement; investor disclosure; and policy advocacy as explained below: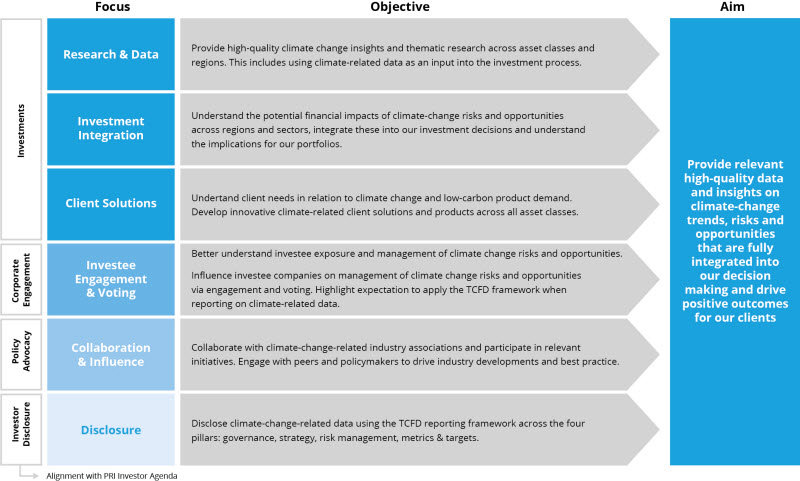  Importance of Engagement
The Investment Manager is committed to regular, ongoing engagement with the companies in which it invests, to help to maintain and enhance their ESG standards into the future.
As part of the investment process, the Investment Manager undertakes a significant number of company meetings each year on behalf of the Company. Your Company is supported by on-desk ESG analysts, as well as a well-resourced specialist ESG Investment team. These meetings provide an opportunity to discuss various relevant ESG issues including board composition, remuneration, audit, climate change, labour issues, human rights, bribery and corruption. Companies are strongly encouraged to set clear targets or key performance indicators on all material ESG risks.
ESG engagements are conducted with consideration of the 10 principles of the United Nations Global Compact, and companies are expected to meet fundamental responsibilities in the areas of human rights, labour, the environment and anti-corruption.
This engagement is not limited to a company's management team. It can include many other stakeholders such as non-government agencies, industry and regulatory bodies, as well as activists and the company's customers and clients.
 ESG Case Study: CapitaLand
The Investment Manager has engaged with CapitaLand, one of Asia's largest diversified real estate groups, on the back of the company's refreshed sustainability strategy. While not always associated with environmental impact, real estate is actually an industry with a very high environmental footprint. It is estimated that the buildings and construction sector accounted for 36% of global final energy use and 39% of energy-related carbon dioxide (CO2) emissions in 2018. As a result, sustainability analysis is a key part of the analysis of companies that operate in this industry. It was comforting therefore to hear CapitaLand's renewed focus on sustainability, with their sustainability strategy having three planks:
Build portfolio resilience (which includes targets around low carbon transition, water conversation, waste management and circular economy),
Enable thriving communities (which includes targets around human capital, safe buildings, customers, and supply chain management), and
Accelerate sustainability innovation (which includes use of technology and sustainable finance).
Pleasingly, the company announced its intention to transition to a lowcarbon business aligned with climate science, with emissions reduction targets approved by the Science Based Targets initiative (SBTi) for a 'well-below 2°C' scenario. These targets are in line with the goals of the Paris Agreement to keep global temperature rise well below 2°C in this century.
CapitaLand's science based targets are:
Reduce absolute greenhouse gases (GHG) of scope 1 and 2 by 28% by 2030 from a 2019 base year
Reduce scope 3 GHG emissions from capital goods 22% per square meter by 2030 from a 2019 base year
While this discussion on sustainability and climate change is ongoing, we have been very encouraged by these developments.
 ESG Case Study: Power Grid Corp of India
Power Grid is India's Central Transmission Utility, and is responsible for distributing power in the country. It manages the national and regional grid networks in India, and provides electricity both within and across regions, operating as the backbone of Indian electricity infrastructure.
India has ambitious targets for renewable energy in the longer term, targeting 175 Gigawatts (GW) of installed capacity by 2022 and 450 GW by 2030. To achieve the latter target, the country needs to install 36 GW of renewable energy capacity per year, up from the current run rate of around 9.4 GW in 2019-2020.
It has been estimated that the addition of 60 GW of wind and 100 GW of solar power generating facilities, as part of the 175 GW target, would reduce carbon dioxide emissions by 21% (280 million tonnes) versus a scenario in which none were installed.
One hurdle to achieving this goal is the transmission network, and the need for smarter infrastructure to draw renewable energy from areas of abundant generation to those of high demand. As with most countries, renewable energy supply is unevenly distributed across India's various states. This means that additional transmission lines are required to move this electricity between and within states. On top of this, the grid needs upgrading to manage the less-stable nature of renewable energy.
Power Grid is playing a central role in the distribution of renewable energy in India, developing the infrastructure to facilitate greater penetration, including a lead role in the development of a green corridor project, a dedicated transmission network for the sector.
While investment opportunities in renewable energy are often thought to be mainly related to solar and power generation, we deeply consider the broader changes that need to happen to facilitate the greater adoption of renewable energy as part of the Company's climate change research. This helps to recognise the investment merits of a transmission company, given the growth in such infrastructure required in India.